Honey Makes a Sweet and Thoughtful Gift
Our delicious gourmet foods, natural cosmetics, and candles will delight your guests, family, friends or staff! Order honey for special occasions; a unique and tasty idea.
Gift Boxes, Gift Bags and Gift Baskets
We can work within any budget. Let our bee team help you create fabulous honey hamper gifts.
Talk to our team for help designing the perfect gift package for your event. We specialize in event label production, gift boxes, baskets, or bags that are filled with uniquely delicious, healthy, and locally produced Northern Ontario goodness.
Our selection of products is bound to create a genuinely perfect gift for your wedding favour, shower, anniversary party, or corporate event. Discounts on volume purchases will apply.
Please call, email or message through Facebook to find out more details.
Phone: 1 (705) 729-2939
Toll Free: 1 (888) 363-2827
Email: info@boardshoneyfarm.com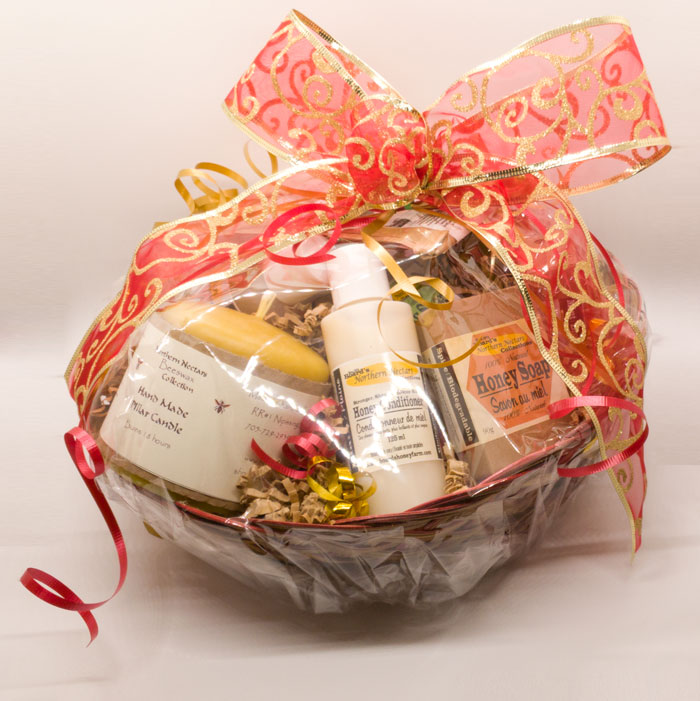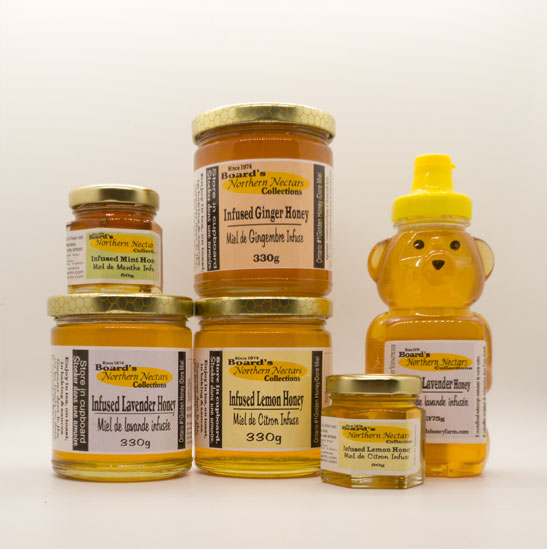 Give a Bee-autiful Surprise At Your Special Event
Our most popular gift selections are 50g, 150g, and 250g hexagon jars with gold lids, labelled with stickers or cards tied on.
We can design custom labels to match your event colours, and using your preferred fonts and text.
Discounts on orders of 50, 100, and 150 pieces.
Anniversaries
Did you know there are traditional gifts for each wedding anniversary? We think honey makes a sweet gift anytime, but especially on these special anniversary days:
1 year: something gold or yellow
7 years: yellow gifts
the 16 year traditional gift is wax candles!
17 years: yellow presents
50 years: something golden
Showers
Spoil the bride or the mom-to-be with the gift of honey! Non-raw honey is safe to eat during pregnancy. We also have creams, natural health foods, and honey-based shampoos and conditioners if you'd like to give a spa-style gift instead.
Staff Gifts
Your staff has been working hard and performing well – give them a special gift of some new taste sensations. Consider our gourmet food ideas.