Board's Honey Farm: Take a Self-Guided Tour of the Farm
There's plenty to do here at the farm! Come for summer adventures – tour the grounds, visit our shop, and explore the area.

Have a look at our photo gallery here, visit the online store, or scroll down to see what awaits when you visit us at the Farm.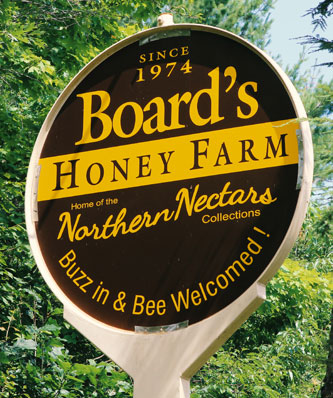 Address:
6866 Hwy. 534,
RR#1 Nipissing, Ontario, CANADA
P0H 1WO

Phone: 1 (705) 729-2939
Toll Free: 1 (888) 363-2827
While in the Restoule area you can also:
Take a hike and have lunch at the Restoule Provincial Park
Lunch at the Restoule Sports Park
Visit other artisans or farms
Visit a deer yard (in Golden Valley)
We can help to make these arrangements.
When you arrive on the farm please come into our shop to receive your free map of the grounds, and the guide for our Fact Finding Scavenger Hunt.
Follow Miss Bee from stop to stop and find the answers. The Beehive Bus is a good place to start. Laugh, learn and listen.
Our forest trail is a great adventure into nature that includes great information about the local flora and some guided Forest Therapy experiences.
Be sure to wander about our gardens too. There are also lots of swings and fun activities for families in our Wee Bee Play Yard.
Bring your lunch or find some snacks in our shop to enjoy.
Remember to stop at the bee yard's observation seating to absorb the buzz of the honeybees!